Seamlessly
Plan &
Collaborate
online with
WEBPLANNER
Online Project Management for the rest of us!
The project management tool for anyone who plans projects. Whether you're a professional project manager working with non-professionals, someone managing a project without professional training, starting a business or planning a wedding, Webplanner is for you. It's easy to use, with just the right professional features to give you and your team traction on day one.
And keep the whole team going, to the finish line. On time. On budget. And on whatever platform you choose!
Don't be fooled by comparable services that seem to charge the same, only to discover the upcharges based on all additional users. Webplanner charges one-low fee for unlimited collaborators* (Premium only)
Webplanner is the easiest to use Project Management system, with no experience necessary, and project templates to get you started fast.
Works on PC, MAC, or mobile platforms, as Webplanner has been upgraded to HTML5.
Updated phase and task management makes it easy to assign tasks, and clear them from your screen when completed.
Integrate with your contacts in Outlook and Act! CRM
Designed with both power and simplicity in mind, Webplanner is a flexible and easy-to-learn tool that works for everyone.
When you create a new project, you are guided through a 7-step wizard that helps you organize the phases of your project, assign tasks to team members, and identify goals and obstacles. When you're done, that information is automatically brought to a click-and-drag Gantt chart, where you can visualize, modify, and add new data. Best of all – team members can log-on worldwide and join you in real

time!
Webplanner is the online successor to the popular Project KickStart, and fully integrates with Project KickStart Pro files, allowing users to upload their Project KickStart projects and work on them with team members through Webplanner. Learn more about the new Project KickStart v6 released in October 2018.
Why choose Webplanner for your Project Management Needs?
Here are some of the many things you can do in Webplanner:
• See the project's status and recent activity at a glance • Calculate project costs • Receive email notifications (Pro & Premium only)
• View your schedule and its most time-essential tasks • Print out individualized to-do lists and other reports
• Track or record task progress • Upload relevant documents • Work out project details through task comments • Clear from view all your completed tasks for a cleaner workspace


The cloud keeps everyone together
Webplanner has intuitive screens with easy navigability to encourage adoption by your whole team. Unlimited collaborators can join your projects, even with the free 2-week trial. For unlimited collaborators, projects, 50MB+ file storage and document uploads, try the Pro or Premium versions, with low annual subscription fees.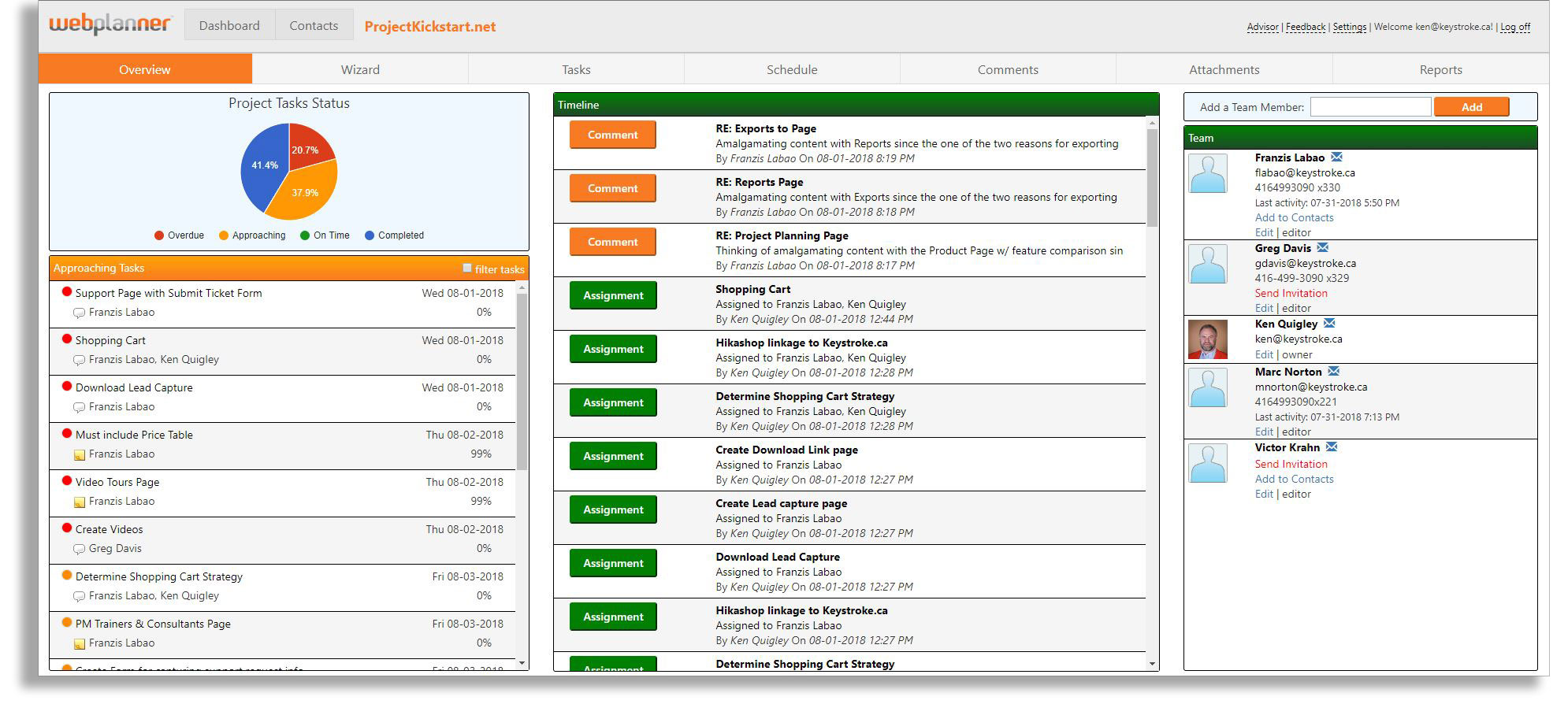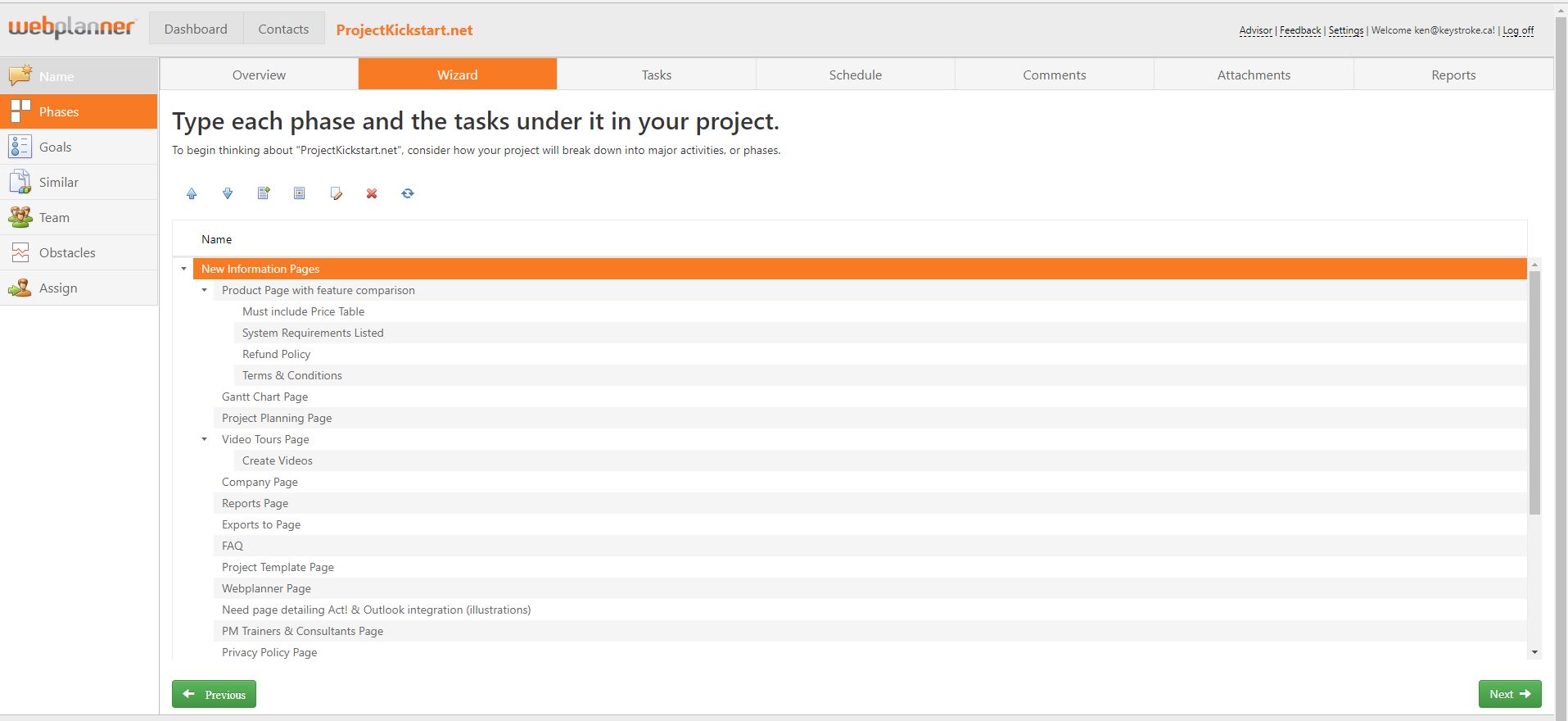 Brainstorm at the beginning
Let the Project Wizard guide you through a series of brainstorming questions to build goals, combat obstacles, assign tasks, reflect on similar projects, etc. so nothing is forgotten. Once you've gotten the hang of it, start from scratch, naming tasks and sub-tasks, re-arranging them with drag and drop to break your project down into manageable steps for others. You can also consult the project template library and use successful projects to make your own templates.
Easy Gantt Chart
Our Gantt chart offers an overview of your project in a timeline with dependencies. You can adjust everything and take advantage of an infinite number of tasks and subtasks. Click-and-drag directly on the chart to establish or change the start date, task dependencies, durations, and progress (% complete). View the chart in hours, days, weeks, months, or years, using your choice of date formats. See a critical path. Set holidays and work days. Adjust all columns and export the chart for others to see. Assign tasks to as many team members as you want. Find comments and attached documents right next to the Gantt chart.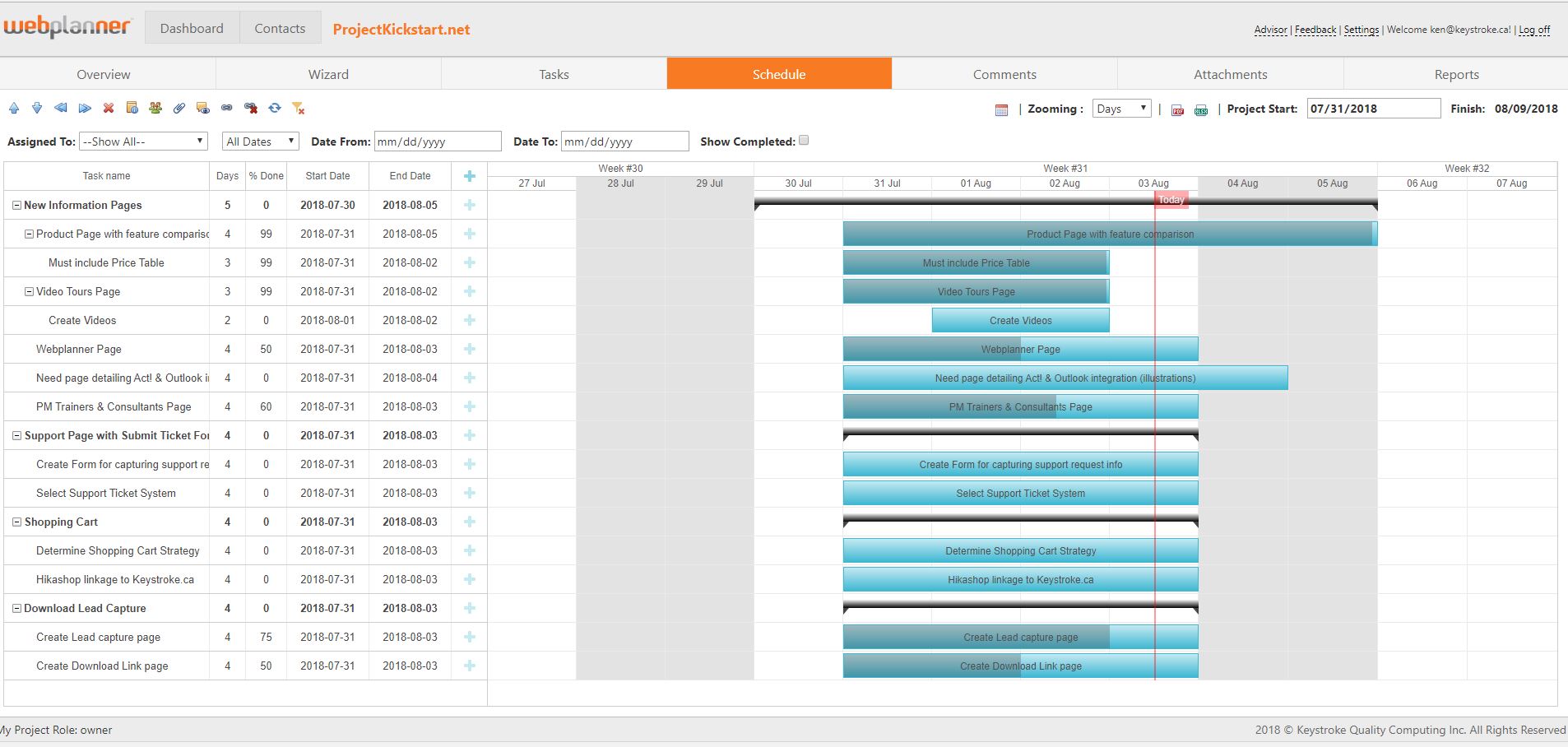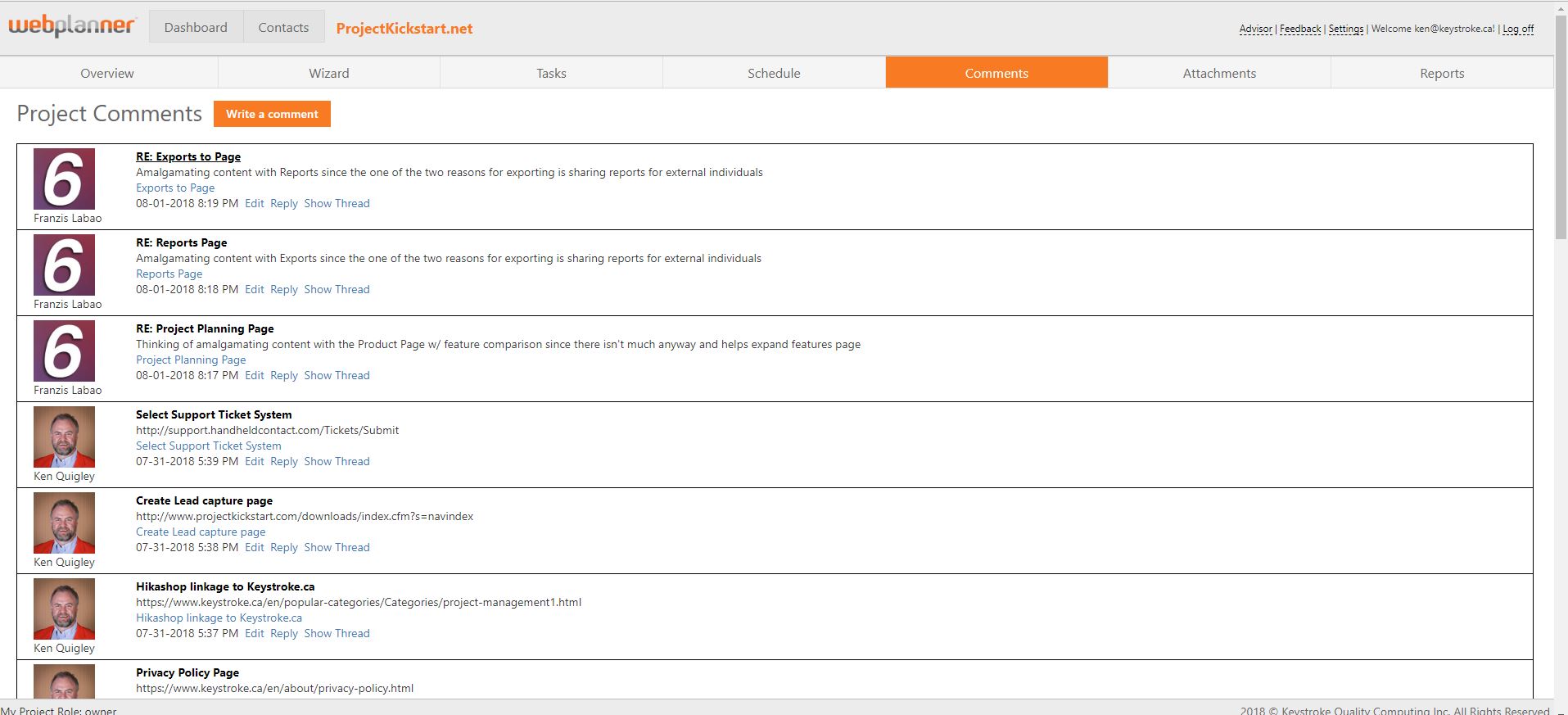 Comments & Dialogue
Create task-specific and attachment-specific comment threads, reply to others' comments, and of course, create a general comment thread for the project as a whole. And don't forget the Feedback button on every screen, so you can send comments to us.

Import contacts from Outlook, including name, email, company, title, phone, and avatar (or profile photo). This will make it faster to add people to projects because their names autofill when you start typing.
Stay on top of everything
Stay on top of everything. On the Overview page for the project, see approaching tasks for the whole team or for each participant. The center column shows recent activity with completed and assigned tasks, comments from other members of the team and newly attached documents. A click takes you to the page where anything occurred. The pie-chart visually displays which portions of the project are completed, approaching, and overdue, at a glance.
Use any standard date format you like. Even international ones. Set regular days/hours, holidays, and extra work days, according to your team's schedule. Set user permissions for each team member, as owner, editor, reader, or client. Assign tasks to as many team members as you want.
Issue reports in Excel, Word, PDF, or plain text for Tasks (cost and last comment optional); Individual Assignments; Phases, Goals, Team & Obstacles; Comments, and a Cost Report. Or, export to Project KickStart for additional export access to Microsoft Project, Outlook, or ACT.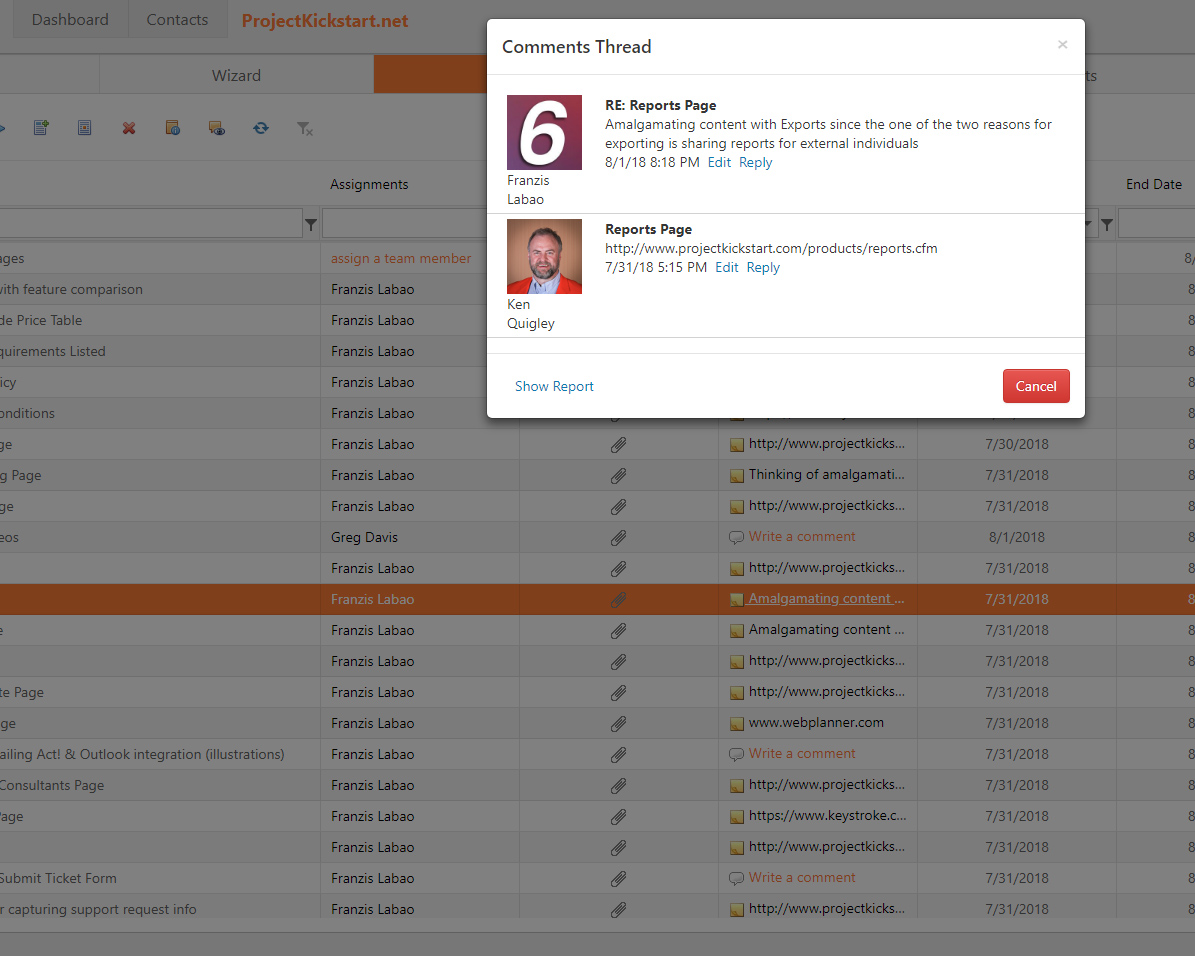 Secure
Your data is secure. With https for every screen, your sessions are protected. Set user permissions to control how much of your project each person can see or edit. Customize Webplanner's autosave settings to ensure that your data is always safe.
Email Notifications
The Approaching Tasks column on the Overview page has check boxes so you can instantly update everyone by email when a task is completed. Each team member customizes thier own notification settings, choosing to get them for their own assigned tasks, for the project as a whole, or to get none at all.
Have a question about Webplanner.com?
Price Plans
All plans are quoted monthly, but billed annually. If you manage a number of departments, and you're wondering how many subscriptions you need, please remember each subscription provides one team leader the option to create projects and invite collaborators. Collaborators cannot create projects or invite others to join the projects, so if you need more than one team leader, please purchase a subscription for each.
1 Project
No collaborators
Single Project Task List
No Data Storage
No Document Uploads
Dynamic Gantt charts with dependencies
No Email notifications
PDF, Excel, and MS Word reports
HTTPS for all activities
Limited Email Support
Pro (Most Popular)
$9.95
/Month
Up to Ten Projects
Up to 5 collaborators per project
Multi-Project Task Lists
50MB Data Storage
Document Uploads
Dynamic Gantt charts with dependencies
No Email notifications
PDF, Excel, and MS Word reports
HTTPS for all activities
Email Support
Unlimited Projects
Unlimited collaborators
Multi-Project Task Lists
1GB Data Storage
Document Uploads
Dynamic Gantt charts with dependencies
Email notifications
PDF, Excel, and MS Word reports
HTTPS for all activities
Email Support
Subscription Notes & System Requirements
All Pricing listed is in USD and priced monthly, but billed annually
2-week free trial available.
Compatible with Internet Explorer and Firefox (PC), and Safari (Mac)
What our customers had to say...
The reviews are in, and customers love Webplanner.com, with it's low cost and ease of use.